Make a Lifetime of Memories.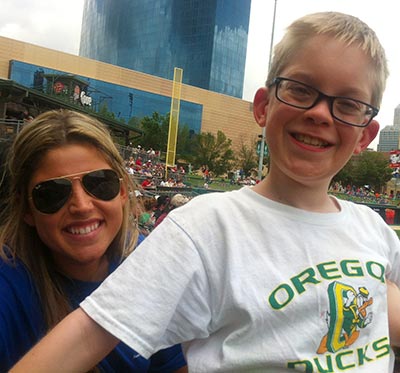 Between making friends, crafts and music, there is never a dull moment at our Youth Day Camps. From participating in science experiments and creating art projects to building birdhouses and taking field trips, your child will enjoy a full week of stimulating and fun experiences. And these activities are only the beginning! With a 4:1 camper to staff ratio, we offer a safe, welcoming environment that offers a great summertime experience for youth of all abilities.
A Camp Experience for Every Interest and Age.
At our Youth Day Camps, we can tap into the specific interests of our campers by providing experiences that target their skills and interests. And because we welcome kids and youth with and without disabilities, we offer an inclusive environment to learn, grow and have fun. Our camps include:
How To Get Involved.
Whether your life is directly impacted by a disability or you care about someone who is facing challenges, we offer resources, services and supports that truly make a difference. Over the years, we have impacted thousands of lives, helping individuals achieve their dreams. And you can help us impact thousands more by volunteering your time or financially supporting our mission. Together, we can Dream it. Live it.™
Special thanks to the following donors for supporting our Summer Camp program:
Autism Speaks Baker Summer Camp Program
Ayres Foundation
BKD Foundation
Christ Church Cathedral Women
CVS
Junior League of Indianapolis
Lilly Endowment
MAXIMUS Foundation
Moorehead Family Foundation
Sertoma Club of Broad Ripple
The Shaw-Burckhardt-Brenner Foundation
Case History: A Noble Life.
Kyle
Having received First Steps early intervention therapies from Noble as a baby, Kyle and his family have been part of the Noble family for many years. So it was natural that he would enjoy attending Noble's many different camps. From Art Camp to Music and Dance Camp, he has made friends and loves learning something new each day.
According to his mom, "Kyle always wanted to go back! We just love Noble. You're always there for us."
Most camps are $200 per week, with half days, daily rates and scholarships available. If you are interested in utilizing Respite funding, please contact us.
Learn More.
If you or someone you know would benefit from our Youth Day Camps, please call us at 317-375-2700 to learn more. Or click here, share a little information with us, and we'll get back to you.