From School to Work.
Project SEARCH Indiana at St.Vincent Carmel Hospital provides students in their last year of high school with valuable internship experiences that prepare them for competitive employment in their communities. Modeled after the internationally recognized program developed at Cincinnati's Children's Hospital, interns experience total workplace immersion during their last year of high school.
Local Impact. Nationally Renowned.
The total immersion experience results in tremendous development in how to interview effectively, how to find a job in their area of career interest, specific job skills, workplace soft skills, social and communication skills, and how to respond to and meet employer expectations.
Students spend the first hour of the day in class and then head to their internship
Each internship experience lasts 8 – 11 weeks
Each student will complete at least 3 internships in areas they choose
Job duties range from stocking to data entry to customer service
Students graduate with a portfolio of experiences, a resume and letters of support
Students are connected with Vocational Rehabilitation to land that first job
Interns develop soft job skills like teamwork and adapting to change
80% of Project SEARCH graduates land a job within the first year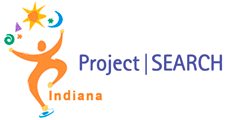 How To Get Involved.
Whether your life is directly impacted by a disability or you care about someone who is facing challenges, we offer resources like this Transition Guide, services and supports that truly make a difference. Over the years, we have impacted thousands of lives, helping individuals achieve their dreams. And you can help us impact thousands more by volunteering your time or financially supporting our mission. Together, we can Dream it. Live it.™
Case History: A Noble Life.
Mark
In 2012, Mark began exploring his career interests and developing vital job skills in his Project SEARCH internship.
After completing his three internships, Mark graduated and began his job search armed with a portfolio, resume, and—most important—the kind of job experience that potential employers want to see in their applicants. Within a few months, Mark landed a job he loves with Fastenal, a national parts distributor on the northwest side of Indianapolis.
Students in their second-to-last year of school at Hamilton-Boone-Madison, Hamilton Southeastern and Zionsville Community Schools are encouraged to apply so they can spend their final year of high school preparing to transition from the classroom to the workforce.
Learn More.
If you or someone you know would benefit from our Project SEARCH program, please call us at 317-375-2700 to learn more. Or click here, share a little information with us, and we'll get back to you.