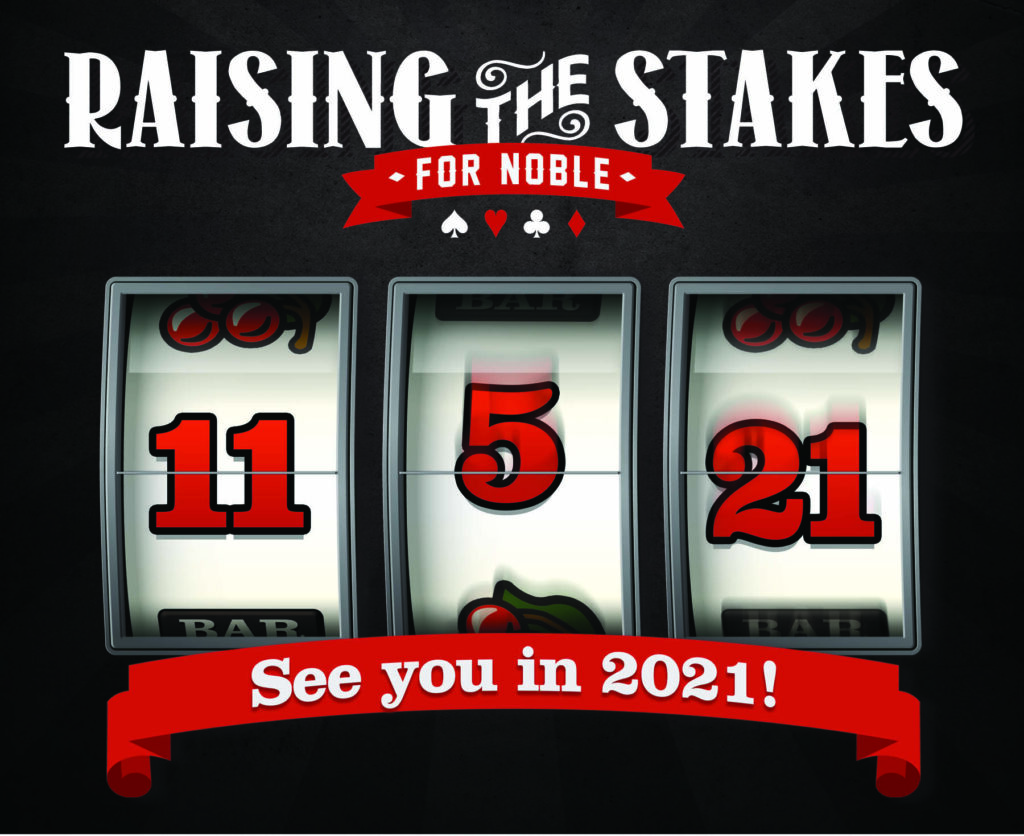 Like many nonprofit organizations, Noble has tried to keep our fundraising events on track despite COVID-19. However, the health and safety of the Noble family—our stakeholders, those we serve, our volunteers and staff—will always be our top priority. That's why we made the difficult decision to cancel the 2020 Raising the Stakes for Noble.
Please know that we share your disappointment. Like you, we were really looking forward to a fantastic night of Las Vegas-style casino games hosted by the Sertoma Club of Broad Ripple, live music, magicians, fun raffles & a silent auction and more. That's why we are excited to announce the new date for 2021:
Raising The Stakes for Noble
Friday, November 5, 2021
7 – 11 pm
The Crane Bay
Many people have asked how they can support Noble in lieu of this event, knowing that we rely on the proceeds to fund our work. As you can imagine, the needs of the 3,300+ we serve haven't been "placed on hold" by this pandemic. Rather, they have increased significantly. If you would like to support Noble, here are several things you can do:
You can make a donation. As you know, cancelling an event impacts our ability to fulfill our mission. You can help by making a gift online or calling 317-375-4256 to charge your gift by phone. Remember, no gift is too small—together we can make a huge impact.
Join us for our 2020 Noble Golf Classic. On Monday, Sept. 21, golfers will get together at the Broadmoor Country Club to support our mission and enjoy a fantastic day at our Noble Golf Classic. This entirely outdoor event allows us to promote safe social distancing while still having fun. You can sign up here or call Events Manager Liz Evans at 317-413-1796.
Save the date for Noble Evening in the Garden on March 12, 2021. Hopefully by then, it will be safe to spread out at the Indiana State Fairgrounds for this 25th annual preview gala to the Indiana Flower and Patio Show. The tasty house specialties of local restaurants, live music, other entertainment, extensive silent auction and more set within gorgeous gardens always puts us in the mood for spring.
A special thanks to our Raising the Stakes Committee for their work leading up to this point: Chair Alli Isaacs, Karen Byrd, Courtney Summers, Kory Vanderford and Fred Winters. Stay well & thank you so much for your ongoing support of Noble. We appreciate it now more than ever!