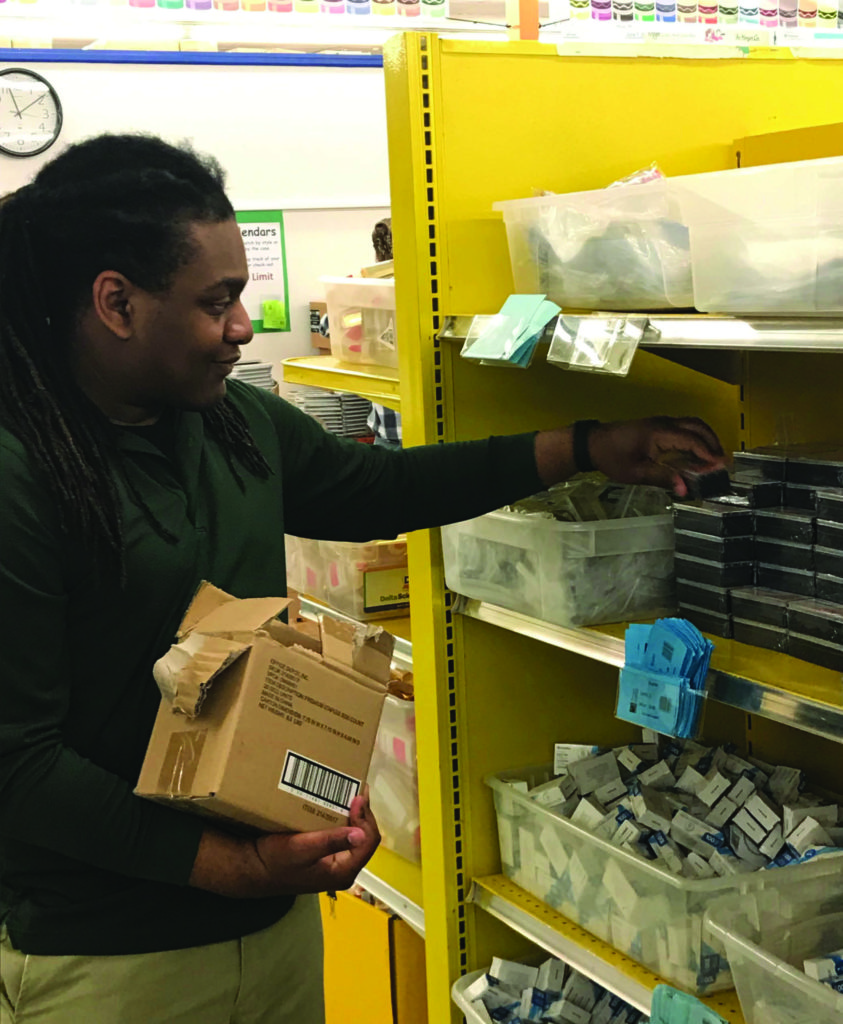 A quiet leader, Chakotay takes advantage of every opportunity offered through Noble's Career Discovery Experience (CDE) to prepare for a successful job in the community.
Chakotay joined CDE shortly after graduating from Arsenal Tech High School. While his goal is to work in the field of technology, he knew that he needed to work on his social skills to successfully land his first job.
Since day one, Chakotay has intently listened to and implemented every suggestion offered by our program facilitators. He works efficiently at every task he takes on, as shown here when he volunteers at Teachers' Treasures.
He is also quick to show initiative, often asking to lead the morning "soft skills on the job" discussion. While he thrives on CDE's schedule and structure, he is also flexible when things change.
According to Chakotay, one of his challenges is learning how to manage anxiety, but he has shown great progress in that area. During his first time volunteering at the Riley Health Sports Legends Experience at The Children's Museum, Chakotay found it difficult to concentrate, and initially did not want to go back.
However, when the opportunity came up to volunteer there again, he was determined to challenge himself.
Knowing that the previous experience had been difficult, the CDE facilitator asked him what he planned to do differently. His response was simple: ignore the distractions and stay calm. He did just that, and worked the entire shift without any complications.
Chakotay now shares this during practice job interviews at CDE as an example he would use with prospective employers to demonstrate his tenacity in persevering through tough situations.
With that kind of determination, you can be sure Chakotay will be joining the workforce soon.
Career Discovery Experience is always looking for business and organizational partners to expand the opportunities we offer young adults preparing for the workforce through this service. Let us know if you would like to get involved.