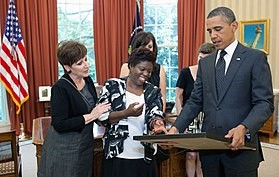 As we celebrate Black History Month, please join us in paying tribute to Lois Curtis and the impact she made on disability services in our country.
Lois (shown here presenting then-President Obama with a piece of her artwork) is an African-American woman with developmental disabilities who paved the way for thousands of people with disabilities to live and work in the community while receiving the supports they need.
Institutionalized from age 11 to 29 years old, Lois knew she wanted more out of life. According to Atlanta Legal Aid Society Director Susan Jamieson, "She wanted what she knew others enjoyed: a life free from locked doors, fences, guards and restrictions of state mental hospitals. She wanted to live in the community, not behind steel doors."
With the help of the Atlanta Legal Aid Society, Lois and fellow plaintiff Elaine Wilson fought all the way to the Supreme Court for the rights of people with developmental disabilities to live and fully participate in the community.
The Supreme Court agreed with them in its landmark 1999 Olmstead v. L.C. decision, ruling that the Americans with Disabilities Act prohibits the unnecessary institutionalization of persons with disabilities.
Through what has become known as the Olmstead Decision, Lois paved the way for hundreds of thousands of Americans with developmental and intellectual disabilities to enjoy fulfilling lives in the community. Please take a few minutes to read more about Lois and this landmark decision that underscores the rights of all people to enjoy life, liberty and the pursuit of happiness.