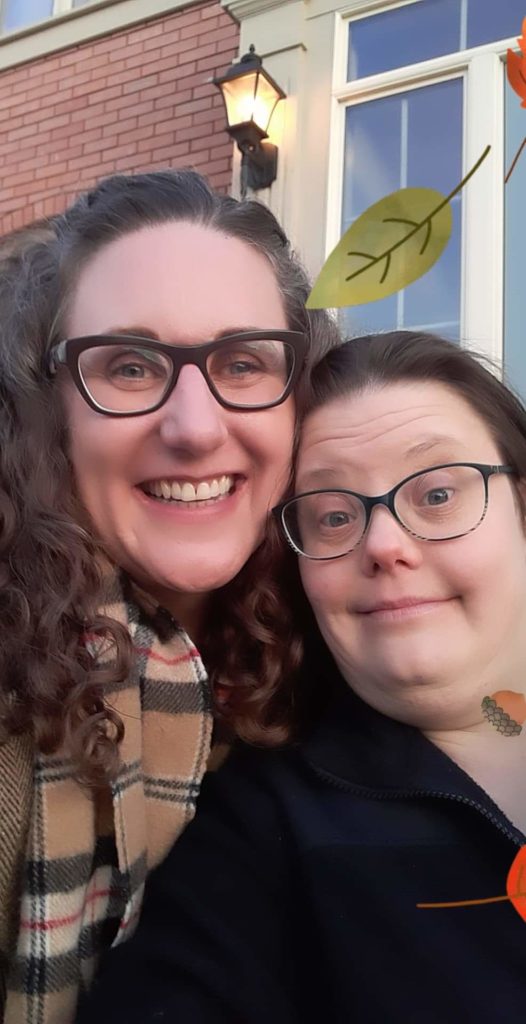 When Behavior Clinician Molly Lang and Mollie N. get together each week, they always have a blast.
It may be their time to talk through anything that has been bugging Mollie N., but they always manage to have fun too. They may head to the mall, or hang out while posing for selfies with fun filters placed over them.
Regardless of exactly what they have lined up to do, the goal is for Mollie to be able to share, talk through things and figure out new ways to handle everyday life stressors.
That's at the heart of Noble's Behavioral Therapy Service.
Through Behavioral Therapy, we work in partnership with the people in your life to develop a written plan and provide positive behavioral supports.
Individuals, parents and guardians help direct how we provide this therapy using the principles of choice, self-determination, and person-centered planning. Your plan will be tailored around your specific needs and goals.
By talking to you and your loved ones, we can help you learn how to cope with life's challenges. The result? A plan tailored to your specific needs and goals.
Is guided by choice, self-determination and your unique goals
Focuses on your rights and respect for you as a person
Provides you with the tools to cope with everyday situations
Increases self esteem and enhances social skills
Offers extensive training to everyone around you to better support your goals
Helps you enjoy a safe, healthy environment that promotes your independence
Keeps the focus on your personal growth and development
Advocates for your needs, rights and dreams
Helps ensure that what is important to you is also important for you
Allows you to live a more rewarding, fulfilling life
As for Mollie, it's about hanging out with a friend who listens and is there for her. Isn't that what we all need?