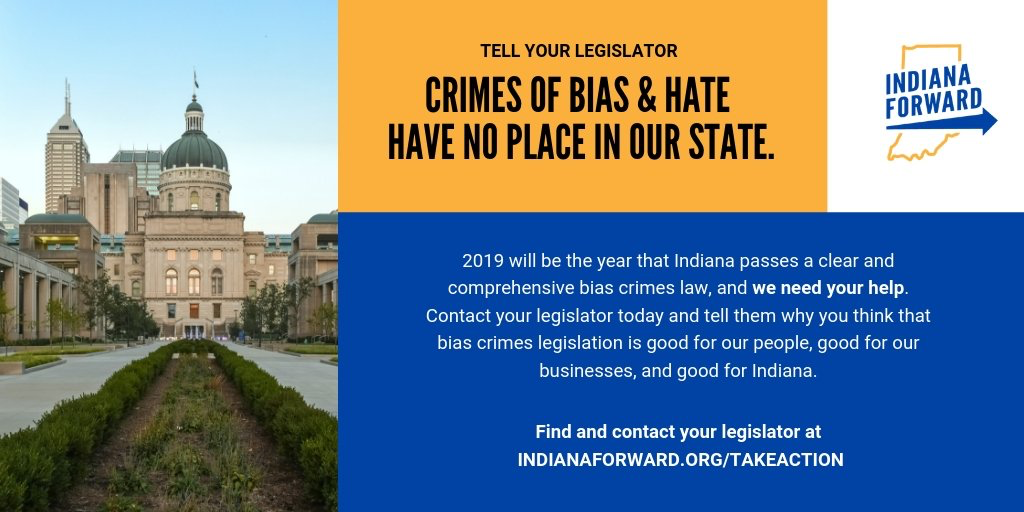 This morning, the Senate Committee on Public Policy will hear Senate Bill 12 on Bias Crimes in the Senate Chamber.
For anyone who can go to the Statehouse tomorrow: Indiana Forward wants to get a short video of you sharing why the passage of a bias crimes law is important to you.  We will share these videos on our social media platforms throughout the rest of the legislative session.  Meet us outside of the Senate Chamber and share your story!
Opponents of the bill are expected to speak first, and the hearing can be viewed on the Indiana General Assembly website.  Click here to go directly to the video page of the Senate Chamber, where the hearing will run from approximately 8:00 am until noon.
This week is critical to the passage of Senate Bill 12.  If you have not already done so, contact your Senator and tell her/him you want Senate Bill 12 PASSED.
This bill provides the court with the ability to take into consideration whether a crime that was motivated by someone's gender, age, disability, sexual orientation and religion when determining the sentence.
74% of the public wants this bill passed, and Indiana is one of only five states that does not have this kind of law. Governor Holcomb and businesses across the state overwhelming support this bill so please take a moment to make your voice heard. Thank you!