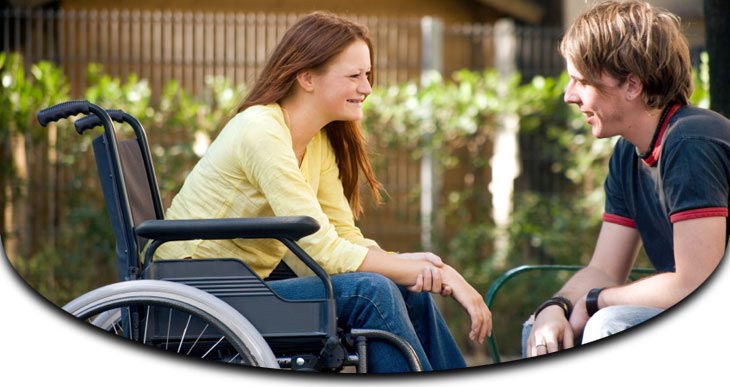 Blog written by Andy Kearns
Attending college is both costly and difficult. For students with disabilities, those difficulties can be exacerbated. However, assistance is available to help students of all abilities succeed in college.
The Challenges
The challenges of attending college for people with disabilities can be quite a bit different from the challenges of other students. They may find it difficult to make social connections with peers, faculty members, professors, or other people they encounter. This can lead to feelings of discomfort, depression and may force the student to move to a school closer to home and family. In some cases, they may leave school altogether.
It can be harder to find off-campus work, which can lead to less spending money and curtailed after-class activities. Transportation can also be an issue when accommodations are needed to commute to class or work.
While legislation has made it mandatory for high schools to offer accommodations or additional services to help them navigate the high school process, colleges do not have to meet the same requirements. As a result, students with disabilities may need services or assistance that their school simply does not provide.
All these issues can combine to make students feel out of place, unable to keep up with the pressures and obligations that college demands, and discouraged about their ability to successfully graduate. The good news, however, is that there are options available.
Programs That Support Students with Disabilities
There are several programs geared specifically for students with disabilities and seek to help them achieve their dreams of a higher education through offering services and funding.
Scholarships Available to Students with Disabilities
There are also scholarships to help students with disabilities fund their education:
Mays Mission Scholarship for the Handicapped  If you have a significant, documented disability, achieved a score of 18 or better on the ACT or 870 on the SAT, and are enrolled in a degree program, you may qualify for this scholarship. The deadline is June 20th if you'd like to apply, and the amount you could be awarded varies by year, funding, and student.
Auger & Auger Disabled Scholar Award  The law offices of Auger & Auger, located in North and South Carolina, offer one scholarship each semester to a high-achieving, bright student with a disability or who is dealing with the aftermath of a serious injury or illness. Each scholarship is $1000, and applicants are judged on academic merits, the quality of their application, and the strength of their personal essay. The deadline for the fall semester is July 31, and the spring semester deadline is November 30th each year.
AG Bell College Scholarship Award  The Alexander Graham Bell Association for the Deaf and Hard of Hearing sponsors this scholarship, which helps students who are deaf pursue a four-year undergraduate education. To qualify, you must have spoken communication as your primary means of communication, and your hearing loss must have been diagnosed before your 4th birthday. Students with cochlear implants are eligible for this program, and the program is highly competitive. The deadline to apply is March 19, 2019, and the total award is $5,000.
Going to college is tough for anyone, and students with disabilities may find it even more challenging. However, there are resources and programs available can help make their educational dreams come true.
Andy Kearns is a Content Analyst for LendEDU and works to produce personal finance content to help educate consumers across the globe.