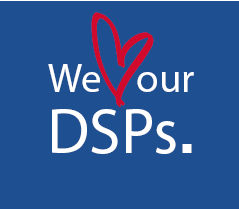 Please join us in honoring Noble's Direct Support Professionals, as we celebrate this week as Direct Support Professionals Week.
Direct Support Professionals or DSPs make up about 65% of Noble's workforce and provide individualized supports ranging from personal assistance, transportation, recreation, daily living skills, job training and coaching and so much more. 
These front line professionals are the heart of our organization, and their daily activities are critical to Noble's mission of expanding opportunities and enhancing the quality of life for people with disabilities.
We are very proud and grateful for the contributions of all Noble DSPs for making a tremendous difference in the lives of the people we serve.  Our DSPs inspire us each day with their passion, patience and creativity.  Please join us in showing your appreciation for these dedicated professionals colleagues working on the front lines, not only this week, but each and every day.
See the official proclamation by Governor Holcomb designating this week in honor of DSPs around our state!