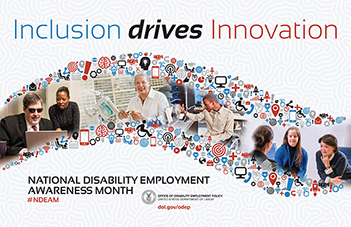 Each October, Noble joins organizations around the country in celebrating National Disability Employment Awareness Month.
The goal of Disability Employment Awareness Month is to educate about disability employment issues and celebrate the many contributions of America's workers with disabilities.
This year's theme is "Inclusion Drives Innovation."
"Americans of all abilities must have access to good, safe jobs," said U.S. Secretary of Labor Alexander Acosta. "Smart employers know that including different perspectives in problem-solving situations leads to better solutions. Hiring employees with diverse abilities strengthens their business, increases competition and drives innovation."
Throughout this month, we will be featuring several people we serve who have enriched their workforce with their contributions so be sure to stay tuned!