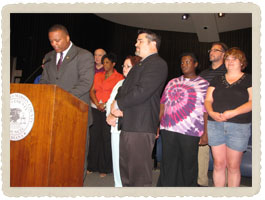 On Monday Sept. 9, the City-County Council honored Noble of Indiana's 60th Anniversary with a special resolution at its full Council meeting. A dozen Noble staff, families, and individuals were on hand to receive this special recognition.
Noble was founded as Noble School on Sept. 8, 1953, and we are very proud of the work of our founding families in laying the foundation for Noble's future. Together we will build even greater opportunities for the people we serve, the families who need our support, the businesses that employ them and the neighbors and friends who are part of their every day lives. Our community is stronger because we all add to the rich tapestry of what makes Central Indiana such a great place to live, work and play.
Thanks again for all your support for the people we serve, and for getting us to this incredible milestone!