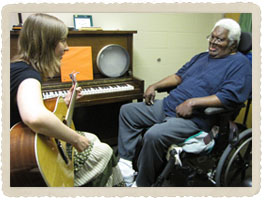 Leon is a 77-year-old man with developmental disabilities who loves to sing. Working on his memory and cognitive skills with Noble Music Therapist Leah Fowler, he sings hymns learned in his earlier days as she accompanies him on piano, and reminisces about the role that faith has played in his life.
During each session, he and Leah also use their time together to work on his motor skills by exercising to the music. From his wheelchair, Leon will stretch his arms up to strike a small drum and march his feet against his wheelchair foot rests to the beat of "When the Saints Go Marching In"–one of his favorite Music Therapy activities.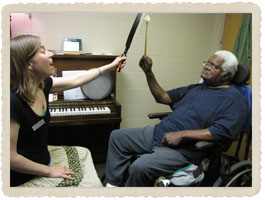 He also work his core abdominal muscles by leaning forward to grasp the tambourine from Leah's outstretched hand, tapping the instrument to the beat of the song. Over this series of therapy sessions–underwritten by a grant from the Allen Whitehill Clowes Charitable Foundation, Inc.–Leon's stamina and strength have improved as he has shown himself to be hardworking, positive and delightful to work with.