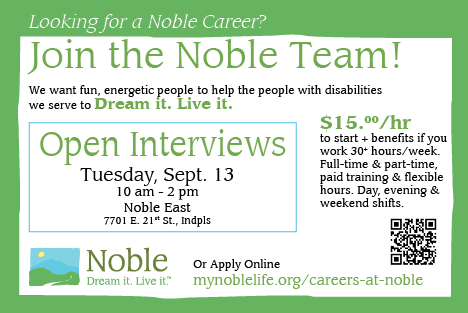 Are you looking for a Noble career where you can be a #DifferenceMaker? Join our team!
We want fun, energetic people from veterans to college students to work with the people we serve as they explore hobbies, gain skills & become more independent.
Come to our Open Interviews Job Fair:
Today
10 am – 2 pm
Noble East
7701 E. 21st Street, Indpls
Dream it. Live it. is not just our tagline. It is our promise to each person with disabilities we serve: Our team will help them achieve the life-affirming dreams they hold dear.
Your job? Support them on that journey. You will help them develop life skills, assist with personal care needs & support them in participating in the community.
Start at $15.00/hr plus generous benefits when you work 30+ hours/week. Full-time & part-time openings, paid training & flexible hours. Day, evening & weekend shifts available.
You Must Be At Least 18 & Have:
High school diploma/GED
Valid driver's license, good record & reliable vehicle
Auto insurance with $50k/$100k for bodily injury liability & $50k for property damage
Criminal history checks & drug screen are conducted prior to employment.
Learn more about how you can be a #DifferenceMaker or apply online today!