Article written by The Indianapolis Star Reporter Sarah Bahr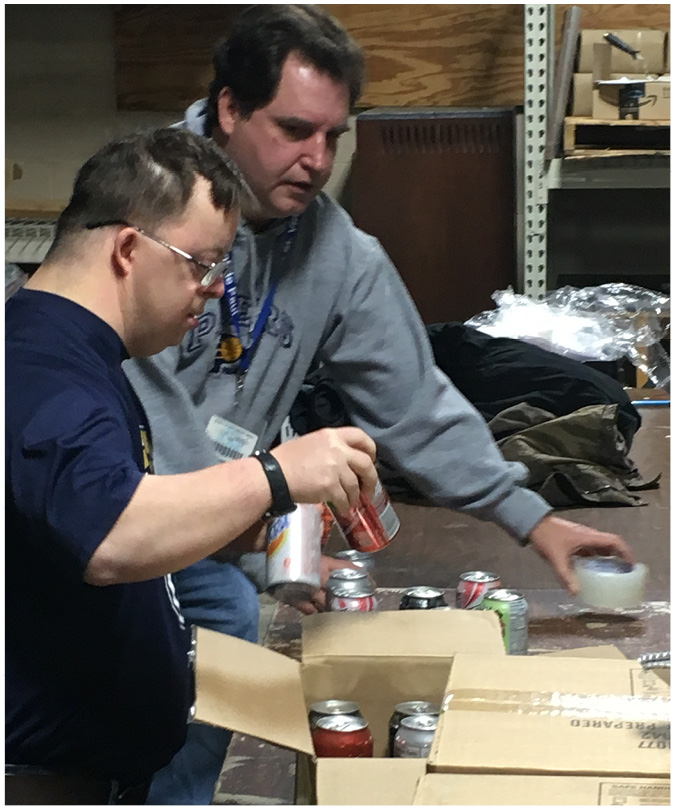 Chris Foy is the most popular person at the St. Vincent de Paul food pantry.
For more than a decade, the 44-year-old Notre Dame fan has packed cans of pop and sorted snack-size bags of chips to distribute to families at the east side Indianapolis pantry, where he volunteers for two hours each Thursday morning. He and his father, Dave Foy, also deliver groceries to seven homebound Marion County families each Wednesday night.
It's a job that requires attention to detail — Foy places 18 cans of Sunkist orange soda or 7Up into each cardboard box, pop-tabs up, taking care not to jostle them too much, before stretching a spooling strip of packing tape that Noble direct support professional Tony Baugh hands him over the seam of the box.
"This is a fun time," said Foy, who has Down syndrome.
Foy is one of the roughly 2,800 individuals Noble, a nonprofit that helps people with disabilities to serve others, serves each year. The organization is working to shift the perception of individuals with disabilities, from those who require assistance to those who provide it.
"People with disabilities are often on the receiving end, so putting them in a position to help someone else is powerful," Noble President and CEO Julia Huffman said.
Foy is clearly appreciated at the pantry — he says hello to four people on a trek to the snack station, even scoring a hug from Sister Louise Hoeing, who also volunteers at the pantry.
"We connect every week," Hoeing said. "Every Thursday I get my hug."
When he's not doling out hugs and hellos, Foy works around 15 hours per week as a bagger at the north side Kroger near 86th Street and Township Line Road.
Noble helped Foy get his job with Kroger, which Huffman said is one of the nonprofit's biggest employment partners for people with disabilities. And the organization works with nearly 40 central Indiana partners, including Riley Hospital for Children, the Children's Museum and the Indianapolis Zoo, to provide volunteer opportunities for individuals with disabilities.
"But we're always looking for more," she said.
Noble provides an extended family to individuals with disabilities whose parents may no longer be around, or who just want to make lifelong friends, Huffman said. Foy, the youngest of nine brothers and sisters, is in the latter category — but he might be the busiest of all his siblings. Speaking of which, Foy is tapping his watch. He's confused — it's not break time, yet.
It's time to get back to work.
In the past year, Noble helped 2,821 children and adults with disabilities, Huffman said. The individuals Noble serves spent more than 11,300 hours volunteering for dozens of Central Indiana organizations.
Noble wants to help the community see people with disabilities in a different light, one that shows them on the giving end rather than always needing help themselves.
Noble is also looking for companies and other entities eager to employ individuals with disabilities, Employers interested in hiring an individual with a disability can email or call 317-375-2700.
Click here to read the full story with photos on The Indianapolis Star's website.