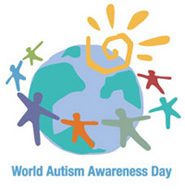 April 2 is World Autism Awareness Day, and people are wearing the color blue to raise awareness for the developmental disorder.
While the whole month of April is dedicated to people with autism, World Autism Awareness Day is an internationally recognized event when the United Nations reaffirms its "commitment to promote the full participation of all people with autism, and ensure they have the necessary support to be able to exercise their rights and fundamental freedoms."
Autism spectrum disorder (ASD) affects about 1% of the world's population, according to the Centers for Disease Control and Prevention (CDC). This year's World Autism Awareness Day is focused on supporting women and girls who have been diagnosed with the condition.
"The 2018 World Autism Awareness Day observance at United Nations Headquarters New York will focus on the importance of empowering women and girls with autism and involving them and their representative organizations in policy and decision making to address these challenges," according to the U.N.'s website.
#LightItUpBlue
Various buildings and landmarks around the world will light up in the color blue Monday to raise autism awareness as well. The White House, the Empire State Building and Niagara Falls have all been lit in blue on Autism Awareness Day in years past.
More than 3.5 million Americans fall somewhere on the autism spectrum, according to the Autism Society of America; about 1 in 68 children in the U.S. are identified as having ASD, according to the CDC.