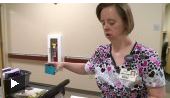 from WXIN Fox 59 and CBS 4
Four days a week, strolling down the hallways of Community Health North, it's likely you'll see a smiling face that stands out.
Katie Cortelyou has worked at the hospital for nearly 15 years. She's the highlight of the day for patients and even nurses on the floor where she works.
"Talk to the patients. I've been a patient, too and I know how it feels," Cortelyou said.
Her job responsibilities include making sure rooms are stocked with supplies for nurses and doctors.
"She definitely helps us out big time, passing out waters and keeping things stocked in our units," said nurse Sarah Vanzile.
Cortelyou always knew she wanted to work in a hospital, but knew she wouldn't be able to be a nurse.
"She has that giving and kind heart and wants to make sure everyone is okay," said Kristy Stewart, an employment consultant with Noble.
Cortelyou's wish is that more people with her same abilities would be able to be employed in Indiana.
To learn more about hiring people with disabilities, check out our Community Employment services, email or call Deb at 317-815-6236.