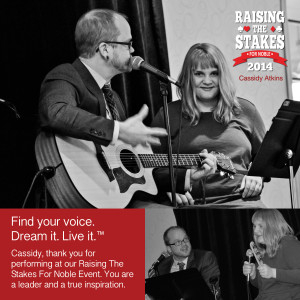 Fundraising events like November's Raising the Stakes for Noble are one way we raise money to support our mission and help the people we serve achieve their dreams. But they wouldn't succeed if they weren't also a lot of fun!
At Raising the Stakes for Noble, we featured our Music Therapy program. With Music Therapist Drew Davenport on the guitar, Cassidy showed us how much she is learning through the power of music: how to cope with life's challenges, how to discover answers for yourself, and how to simply let your creative side take over. Everyone at the event learned something else that night: that their support of our events makes it all possible. And special thanks to designer Libby Yeager for creating this image!
So plan on having some fun while raising money for a fantastic cause at our next event: A Noble Evening in the Garden. Set for Friday, March 13 at the Indiana State Fairgrounds, this event will propel you into spring as it is set in the backdrop of the Indiana Flower and Patio Show. Grab your friends, mark your calendar and get your tickets today. You'll have a lot of fun raising funds for Noble!