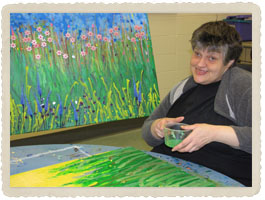 Art has been the driving passion for most of Lisa Thacker's 44 years of life. Early on, she drew her inspiration from nature, often using her hands rather than brushes on her canvases. Sometimes she attaches found objects to her work to create a more fully dimensional piece.
You can enjoy her latest creations as well as collaborative pieces by other Noble artists, refreshments and beverages, during the First Fridays Art Tour:
Friday, August 3
6 – 9 pm
Athenaeum at the Rathskellar
401 E. Michigan
Free!
For nearly 60 years, Noble of Indiana has created opportunities for children and adults with disabilities to live meaningful lives through a wide array of services. Art is an important component of these services, offering individuals with disabilities a creative outlet for expression.
While Lisa is Noble's featured artist at our August showing, visitors will also enjoy viewing collaborative pieces created by other artists served by Noble. The artwork will then be on display for the entire month of August so be sure to check it out and let us know what you think!