Excerpted from an article by Kurt Streeter/The New York Times. Photo by Michael Reaves.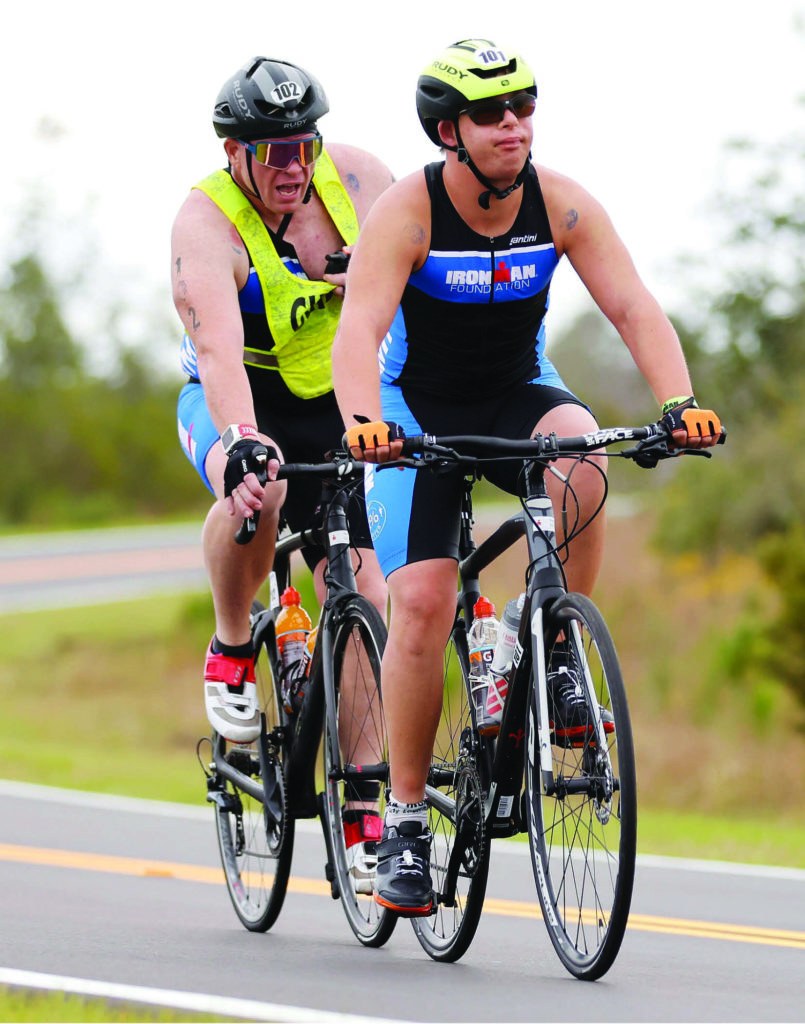 On November 7, over a span of 16 hours and 46 minutes, Chris Nikic finished an Ironman Triathalon. In doing so, he achieved something no one else has: he became the first person with Down syndrome to conquer this incredibly grueling race.
The 21-year-old Orlando man overcame the challenges of this race — a 2.4-mile open-water swim followed by a 112-mile bike ride and a 26.2-mile run — to prove to himself and others that he could do big things. And if he could do big things, then maybe one day he would fulfill his ultimate dream: to live independently and have a wife and a family of his own.
To understand the long odds Nikic faced during that race, you have to go back to his childhood. At 5 months old, he endured open-heart surgery. He was so weak and had such poor balance that he did not walk until he was 4.
His parents — Nik, a corporate performance trainer, and Patty, a stay-at-home mother — struggled to get their son proper care and attention. They moved him to seven different elementary schools, searching for the right fit. At every turn, experts spoke of Nikic in terms of limits instead of possibilities. "I always felt isolated, left out, excluded," he says.
He found solace in sports. By his early teens, he was running sprints, swimming and playing basketball for Special Olympics. Last October, with the help of a local endurance training group and volunteer coach Dan Grieb, he set his sights on the Ironman. Conquer it, and  he could do anything.
Nikic and Grieb began meeting in the predawn hours for 20-mile runs and 100-mile bike rides. As he grew more fit, he seemed mentally sharper, more attentive and confident.
The morning of the race, Grieb was with him in the ocean as a guide, the two tethered together by a black bungee cord as an extra safety measure. They emerged from the choppy sea in just under two hours.
Grieb then helped Nikic onto his 10-speed bike, and they began the long ride. Because Nikic could not balance well enough to drink water while riding, he had to stop and climb off his bike to hydrate. When he did that on the 22nd mile, he didn't notice that he was standing on a large mound of red ants. They swarmed and bit his ankles, causing his legs to swell. He managed to get going again, only to crash his bike a few miles later while speeding down a hill. Again, he kept on.
Then came the marathon. It began well enough, but at Mile 10, everything changed. He slowed so much he seemed to be barely moving. There was anguish in his eyes. His supporters huddled around him, hoping to lift his spirits.
Nik Nikic drew his son close and whispered: "Are you going to let your pain win, or let your dreams win?"
Chris Nikic knew this wasn't only about finishing an Ironman, but about showing himself what he could achieve in the future. His own home. Independence. A wife as kind and beautiful as his mother. "My dreams," he told his father, "are going to win."
He began to jog again. He found his rhythm. Nothing could stop him. He crossed the finish line with arms held high in celebration.
"I learned that there are no limits," he says. "Do not put a lid on me."