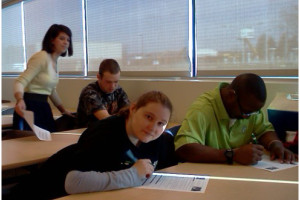 The Career Discovery Experience is being held at Ivy Tech's west side campus, which is 7 miles from Noble Business Enterprises. Noble Career Development Specialist Allison Judge takes the eight individuals in the group from Noble Business Enterprises to Ivy Tech, and brings them back at the end of the day. Our goal is to have 8 people in each subsequent class so we can provide the individualized support needed to help each person succeed, and classes are held Monday through Friday.
Allison uses the morning to teach a two-hour class on soft skills, using the "Skills to Pay the Bills" curriculum. After lunch at Ivy Tech, the group will spend the afternoon in the community volunteering or having a "tour and talk" with a corporate partner.
Our focus is to help people land a job in the community. We will help them enroll with Vocational Rehabilitation and assign them a job coach. The job coach will be their mentor, helping them discover what they like to do, what their skills are and help them through the job search process.
If anyone does not find a job at the end of the 12 weeks, they will work with their job coach to decide whether they should repeat the class or if they should continue the job search. For more on the Career Discovery Experience and how to suggest individuals who might benefit from this pre-vocational training, please email us.