Community Employment does work, and it works for both the individual and the employer. Ask Marsh Supermarkets. They really get it!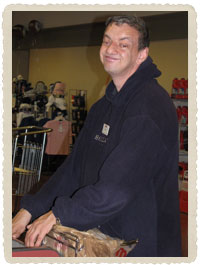 Chad Riggins received a certificate of completion from Lawrence North High School back in the 1990's. Although very border line between being labeled mild versus moderate, daily living skills were much more important than any science or history class. His mother realized this early on, his teacher understood it and his IEP's were written to support it. Community Employment gave him opportunities to discover what he liked to do in the work place and what he did not enjoy doing at all. Having jobs in several unrelated areas showcased where he excelled, and he excelled with people, loving the interaction and liking to earn money of his own.
In fact, this program was so successful Chad placed himself in a full-time position after graduation with full benefits and remained at this job for 19 years. He and his mother stopped at a trailer on 96th street as the new Marsh store was shaping up and opening soon. He walked away with the job and a lot of pride. The only services provided to him were follow-along services through Noble of Indiana and those were requested by the family more as insurance, just in case this job would go away. Instead, Chad made it through all the cuts during the economic downturn.
Unfortunately, only through his recent passing did his family learn just how valuable he became to Marsh and to his customers! Customers went to his line. He remembered them and whether they wanted paper or plastic, whether they had been on vacation or had a new baby. They remembered his smile and his caring ways. The on-line condolence book is full of heartwarming notes from his customers. Customers attended his visitation. Customers are still asking about him 6 weeks later and picking up his picture at the store.
Not only did Chad work in the real world, but he also played hockey on a regular men's team on Sunday nights. During his younger years he played hockey, was the "water boy" for his brother's travel team, and then became the Team Manager at Brebeuf Jesuit High School for their hockey team. What the hockey community has done to honor Chad is incredible.
Chad was no longer "mainstreamed," but he worked and lived in the real world becoming a contributing member of society with his own 401k. He is an example of how our system should work and did work. He proved that self-esteem and acceptance can produce character and growth beyond imagination. He proved that book learning and passing tests are not a component to attaining and holding down a job. Yes, we all taught him the mechanics of life, but he taught us how to successfully live.
My hope is that this story can make a difference, can encourage employers to hire people with disabilities, and that people can understand that we are all different but have the same basic needs for an education that supports what we do best. What we do best is what we have a passion for. Chad enjoyed a wealth beyond what many college educated people will ever find, and it all began with a program that gave him a chance.
Pam Riggins, Chad's mother