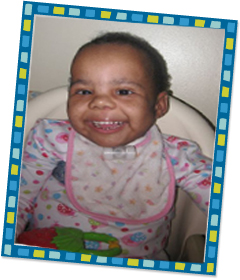 Kim Johnson's pregnancy was uneventful. She already had a son, so she felt confident as her pregnancy progressed. Everything changed the day Kihra was born.
Initially, she was experiencing trouble breathing and had no interest in the bottle. Then at eight days old, she was diagnosed with Trisomy 18, a genetic disorder. Fifty percent of infants with this condition do not survive beyond the first week of life, and those that do typically experience serious medical and developmental problems.
After 21 days in intensive care, Kihra came home with a tube to provide her with nutrition and a trach to keep her airways clear.
Fast forward 18 months and hundreds of hours of therapy later, and Kihra is making strides.
"She is very alert, pays attention to faces and responds to the ones she knows," Kim noted, adding, "She even makes cooing sounds around her trach."
Because Kihra doesn't have good muscle control, one of the first priorities was to get her a chair with a chest strap to keep her upright. Thanks to the Noble Auxiliary, her new chair allows her to see her world, bat at toys and sit up well enough to begin tasting food.
She's getting help with that from Noble Speech Therapist Terry Duwe. Tongue positioning, feeling textures on her tongue and swallowing are the focus of her therapies right now, with the goal being to eat regular food.
Kihra has a long road ahead of her, but her progress so far is pretty neat. "I love it when 'my kids' are making progress. We can do the happy dance!" Terry says.