A Sure Bet for a Great Time.
You can bet our 8th annual Raising the Stakes for Noble presented by Ray Skillman West Side Auto Mall will be a fantastic night for all! From Las Vegas-style casino games to magicians, live music to raffles, our attendees will have a fabulous evening of "gaming" with our wonderful Sertoma Club of Broad Ripple hosts.
Take a look at the photos from the 2016 Red Carpet Entrance, compliments of Jamie Sangar Photography as well as event photos by Bowersock Photography. Then mark your calendar for Nov. 17, 2017!  Charity gaming license #144144.
You're Invited to our 2017 Event!
November 17, 2017
7 – 11 pm
The Crane Bay
551 W. Merrill Street, Indianapolis
Must be at least 21 years old to attend. Cocktail party attire encouraged.

Party Like a High Roller!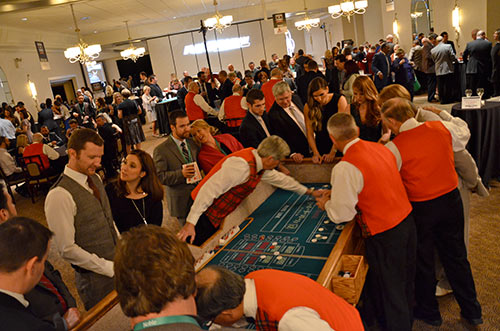 After dinner, you and your guests will take your chips to the casino area where you can enter a Texas hold-em tournament, play craps and blackjack, enjoy our open bar and be amazed by our feature magician. Rock out to live music as you bid on the high-value items in our auction. At the end of the night, you'll exchange your chips for raffle tickets for a chance to win fabulous prize packages. What do you have to lose?
Silent Auction
Our Event Auction will be live & open to both our guests as well as anyone who has to miss the evening's festivities one week before our 2017 event. Please note that the Auction will close the night of the event at 10:30 pm, and you do not need to be present to bid and win. Remember to bid early & bid often = it's a win-win situation!
Live Entertainment
Besides casino games, Raising the Stakes features live entertainment, magicians, games lie Spin the Wheel, Growler Ring Toss and Guess the Dice. Then you can create a souvenir photo compliments of Indy Photo Booth. Guaranteed to be a great night!
We Love Our Sponsors
Our sponsors get great marketing exposure that includes recognition on our website, Facebook page and Noble Life e-newsletter. They go fast so call Liz at 317.413.1796 or email us for a list of 2017 opportunities.
Special thanks to our returning:
You Can Still Make A Difference
Can't make it this year? You can still support Noble and the people we serve by making a donation. Click here to donate directly.
Tickets
Tickets for our 2017 Raising the Stakes for Noble will become available in this summer so you can make plans to start your weekend off right!
Price
Qty
Individualshow details +
$100.00

(USD)

Goes On Sale




June 1, 2017

Couple (bundle)show details +
$175.00

(USD)

/ bundle

Goes On Sale




June 1, 2017

Table of 10 (bundle)show details +
$750.00

(USD)

/ bundle

Goes On Sale




June 1, 2017

VIP Individualshow details +
$150.00

(USD)

Goes On Sale




June 1, 2017

VIP Couple (bundle)show details +
$275.00

(USD)

/ bundle

Goes On Sale




June 1, 2017

VIP Table of 10 (bundle)show details +
$1,000.00

(USD)

/ bundle

Goes On Sale




June 1, 2017