Investing in Our People
Direct Service Workforce Investment Grant Funding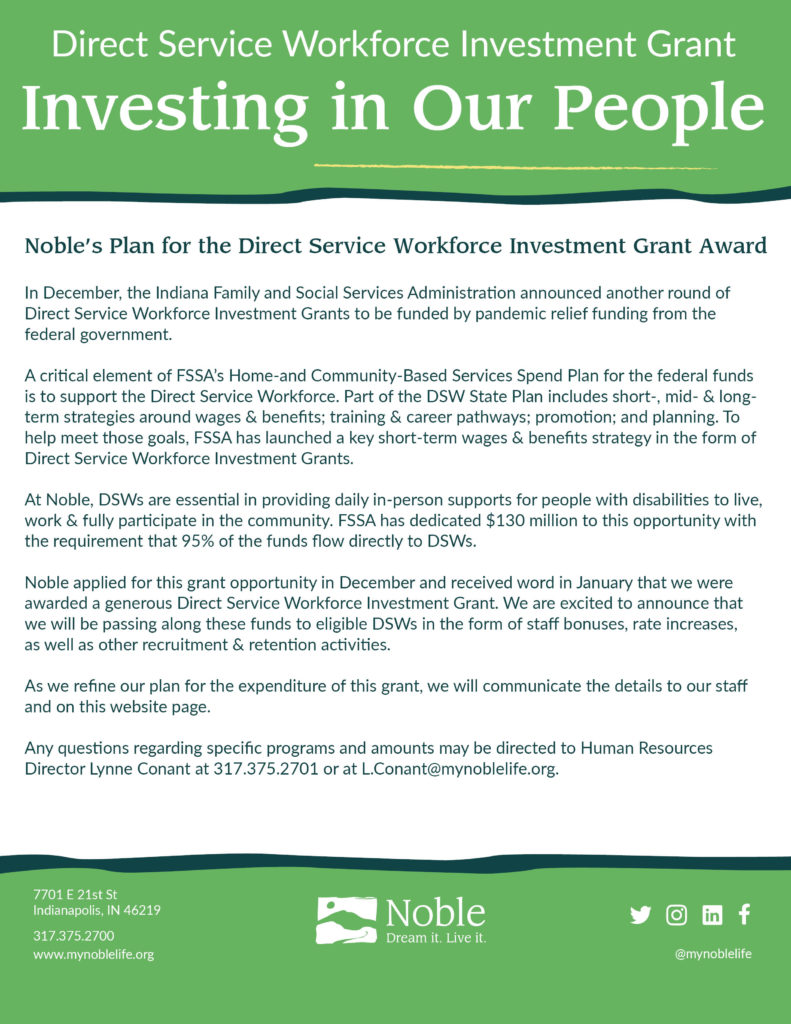 In December, the Indiana Family and Social Services Administration announced another round of Direct Service Workforce Investment Grants to be funded by pandemic relief funding from the federal government.
A critical element of FSSA's Home-and Community-Based Services Spend Plan for the federal funds is to support the Direct Service Workforce. Part of the DSW State Plan includes short-, mid-, and long-term strategies around wages & benefits; training & career pathways; promotion and planning. To help meet those goals, FSSA has launched a key short-term wages & benefits strategy in the form of Direct Service Workforce Investment Grants.
At Noble, DSWs are essential in providing daily in-person supports for people with disabilities to live, work & fully participate in the community. FSSA has dedicated $130 million to this opportunity with the requirement that 95% of the funds flow directly to DSWs.
Noble's Plan for Investing in Our People
Noble applied for this grant opportunity in December and received word in January that we were awarded a generous Direct Service Workforce Investment Grant. View our plan for this funding here. We are excited to announce that we will be passing along these funds to eligible DSWs in the form of staff bonuses, rate increases, as well as other recruitment & retention activities.
As we refine our plan for the expenditure of this grant, we will communicate the details to our staff and on this website page.
Any questions regarding specific programs and amounts may be emailed to Human Resources.