Make an In-Kind Donation.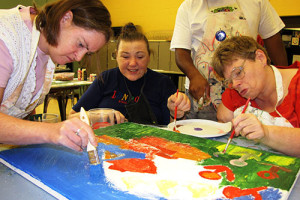 Besides financial support, we need supplies and other items that strengthen our services and help individuals achieve their dreams. In-kind donations ranging from gift cards to art supplies can go a long way to helping the people we serve live more fulfilling lives. Your in-kind donations are tax-deductible.
To learn more or to ask about particular items, click here.
Other Needs Include:
2 to 3 Brother-Project Runway sewing machines ($145 via Amazon)
Gardening tools and perennial plants
Educational software (math, reading, typing)
Gift cards to Michael's and Hobby Lobby (for art supplies)
Art canvases and acrylic paint
Small prizes for games
Laminating sheets
Large storage bins
Video camera
Small wood items to be refinished
Children's Services:
Diapers and wipes
Safety First Portable Booster Seats
Nuk brushes
Children's vibrating toothbrushes
Child-sized spoons and other utensils
Water-filled teething rings
Textured balls
Bubbles
Aqua Doodle and Magna Doodle toys
Simple shape sorters
Non-interlocking wooden puzzles (with knobs on each piece)
Adult Services:
DVDs and CDs
Posters
Tickets for movies and sporting events
Musical instruments (bells, tambourines, maracas, stick instruments)
Umbrellas, hats, gloves
New socks and sweat pants (men and women sizes)
Furniture, Supplies and Other Large Items:
La-Z Boy recliners
Kitchen appliances
Locked storage cabinets
Pots, pans and silverware
Large outdoor canopy
Vinyl chairs with arms