General Day Camps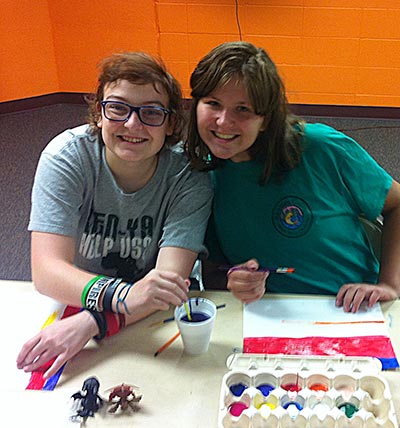 The kids at Noble's Traditional Day Camps have a great time, spending their hours enjoying themed days like Wild Hair Wednesdays and Tomato Tuesdays. Each day, campers go outside to play tag, hide-n-seek and king of the jungle gym, but when the weather grows warm, indoor gyms provide an escape from the heat to continue the fun.
Field trips, board games, music and dance, movies and special guests will also fill our days. Art projects can be a bit messy, but that just adds to the fun.
We break our Day Camps into two age groups. Youth One is for kids 6 – 12 years, while Youth Two is for campers 13 -18 years. That allows us to tailor activities to their specific needs.
Camp is just $200 per week, and scholarships are available. To utilize Respite waiver funding through our camp, email us to learn more. Bring your lunch, and we'll provide the snacks.
Camp Schedules
This year's Traditional Day Camps will be held on the following weeks:
Day Camp for Youth 1 is over. It was held:

June 8 – 12 and June 15 – 19
Noble Broad Ripple
6060 N. College Ave., Indianapolis, 46220
Day Camp for Youth 1 and 2 will be held:

June 29 – July 2 (no camp July 3) so the cost is $160
Orchard Park Presbyterian Church
1605 E. 106th St., Indianapolis, 46280
Be sure to register soon. Space fills quickly when you can have this much fun!
Learn More.
If you or someone you know would benefit from our day camp programs, please call us at 317-375-2700 to learn more. Space fills quickly, so contact us today! To utilize Respite waiver funding through this camp, click here, share a little information with us, and we'll get back to you with details.
Signup For Camp.