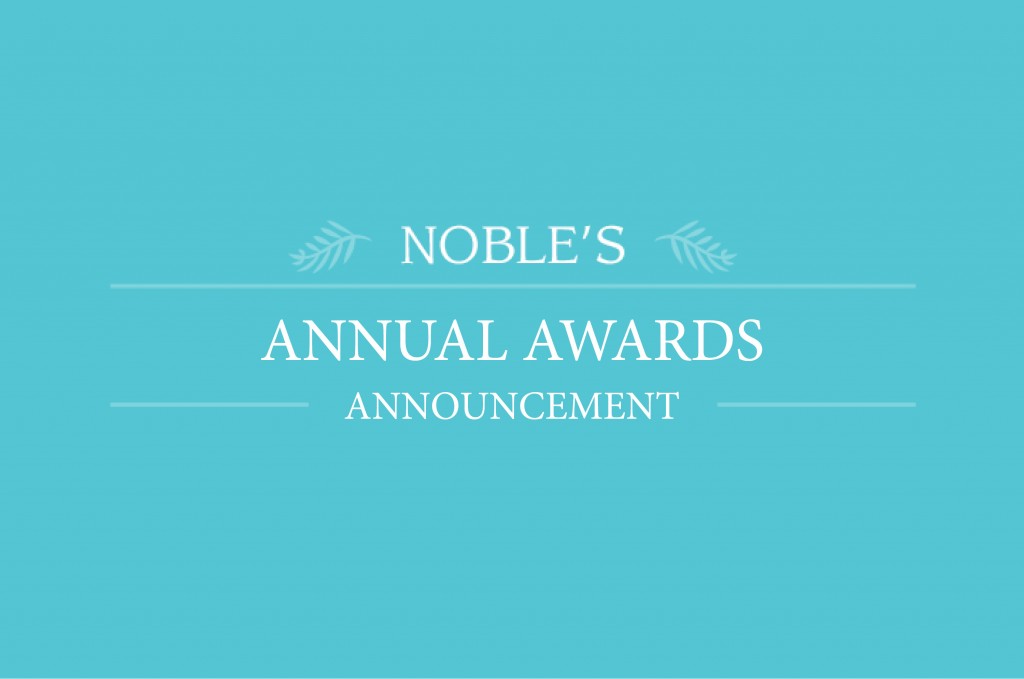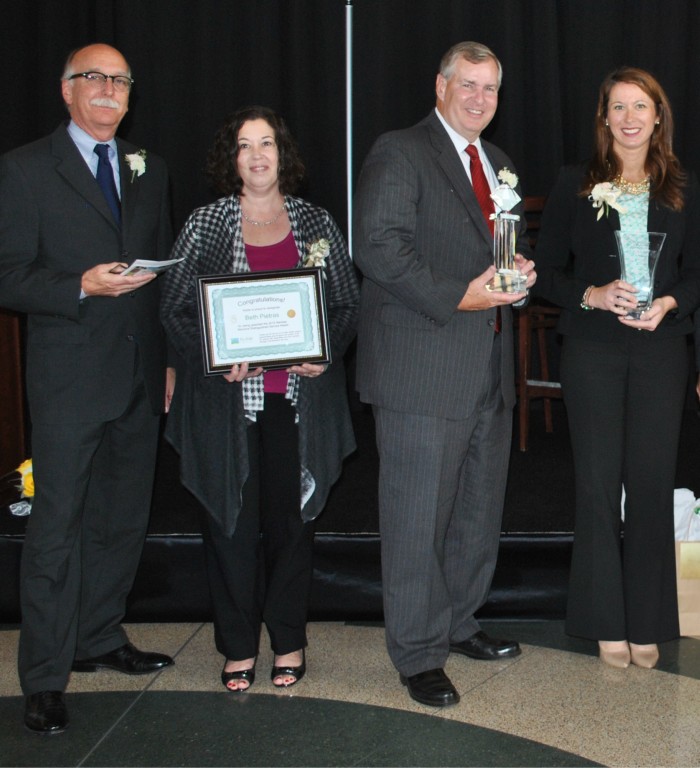 Celebrating Those Who Live Out Our Mission.
Each year, we recognize individuals, corporate partners and organizations that work tirelessly each day to help the people we serve pursue their dreams. It is this incredible group that we applaud through Noble's 2016 Annual Awards. So everyone could join us in recognizing our Annual Award Winners, we made the announcement through a full-page ad in the Sept. 12th Indianapolis Business Journal.
Congratulations to
Our 2016 Award Winners
William Wales
President's Award
Dr. Michael LaRosa
Champion Award
Jasper Young
Citizenship Award
Clifford Robinson
Harriet P. Irsay Distinguished Parent Award
Sertoma Club of Broad Ripple
Development Award
Scotty's Brewhouse
Employment Award
Karen King
Auxiliary Award
Jackie Johnson
Marissa Manlove Distinguished Service Award
About Our Award Winners
William Wales, President's Award. Since he joined the Board in 2001, Bill has been a huge advocate and supporter, both in governance and an on-the-ground volunteer. Before not-for-profits were required to do so, Bill shepherded through our Corporate Compliance program as chair of the Audit Committee. Beyond service on numerous Board committees, he has strongly advocated for the inclusion of people with disabilities in the workforce. While at Dow AgroSciences, he helped establish it as a model of inclusive employment. He has also championed Noble in his current role at Barnes & Thornburg. On a personal level, Bill and his wife attend almost every fundraising event, generously support our mission, and volunteer as opportunities arise. Beyond Noble, Bill's passions include St. Vincent DePaul Food Pantry and University of Detroit Mercy School of Engineering.
Dr. Michael LaRosa, Champion Award. For many years, Dr. LaRosa has been an incredible champion for the people we serve. At a time when physicians often rush from one appointment to the next, Dr. LaRosa takes the time to get to know the people we serve who see him for health care. From the moment he steps into the room, he focuses on their interests, what makes them happy and who is important in their lives. No concern is too small, and he always makes people feel welcome with a smile on his face and a hearty handshake. The individuals we serve come first; only after talking with them does he turn to staff. And when someone is having an "off" day, he does everything he can to bring out a smile.
Jasper Young, Citizenship Award. Jasper took a big leap forward in his career path last year, and the effects have rippled throughout his life. After working at Noble Business Enterprises for a couple years, Jasper took a chance and landed a job at The Alexander through our Community Employment service. Each day, he gets up at 5 am to make breakfast and get ready for the bus he takes to his job downtown. There he sorts the hotel's laundry, loads the industrial washing machines, folds the clean items and stacks them neatly on shelves or in baskets. "Every day I try to do the best I can. Lot of people pulling for me so I know I have to work my way up," he says. While he currently shares an apartment with two housemates, his goal is to get promoted so he can ultimately live on his own.
Clifford Robinson, Harriet P. Irsay Distinguished Parent Award. A devoted father of seven, Cliff is truly a role model for parents everywhere. After he and his wife Emily had six children, their 7th child, Jon, was born. At age 6, Jon was diagnosed with autism and shortly after began receiving services from Noble. Today, Jon is 46 and Cliff has been a single father since Emily passed away a few years ago. Because of Noble, Cliff knew that Jon was receiving caring supports while he worked first as a manager for the Chicago Bears then as a teacher and finally retiring from IUPUI as the Director of Human Resources. Over the years, he and Emily were tremendous advocates for Jon as well as all individuals we serve. Many parents of children with disabilities have turned to Cliff, who became both a mentor and friend. Sharing in their challenges and victories, Cliff stands tall as a devoted dad and an example for all of us.
Sertoma Club of Broad Ripple, Development Award. Chartered in 1958, the founding members of the Sertoma Club of Broad Ripple quickly selected Noble as the focus of their philanthropy and have remained generous supporters ever since. From the beginning, they chose to host Las Vegas-style casino parties as entertainment to raise funds. These casino parties turned out to be very popular and fun events for both corporate and privately held events. Today, the 100+ members don their plaid vests to offer everything from Texas Hold 'em tournaments to Craps at over 50 events per year. They added Raising the Stakes for Noble seven years ago, which has become a fantastic event for Noble each November. They also host an annual holiday lunch for some of the children we serve and their families, complete with Santa bearing gifts. As they say, they like to raise money and they like to give it away, over $2 million of which they have generously given to Noble over the years to support the families we serve. We are very proud of our long-term partnership with this incredible organization!
Scotty's Brewhouse, Employment Award. Corporations and businesses both big and small across the country have recognized the benefits of hiring individuals with disabilities as part of their workforce, and we are proud to count Scotty's Brewhouse as one of the true champions. On a corporate level, they have made a clear commitment to hiring a significant number of people with disabilities in each of their restaurants and for a variety of positions and roles. When The Arc of Indiana's Erskine Green Institute and Teaching Hotel opened in downtown Muncie last year, its on-site restaurant was a Scotty's Brewhouse. This offered the individuals with disabilities studying there yet another option for developing the skills needed to work in the hospitality industry. In addition to its commitment to hiring people with disabilities, Scotty's is also a generous corporate sponsor of and partner in Noble's fundraising events. Truly a model of what it means to be a well-rounded corporate citizen.
Karen King, Auxiliary Award. Since joining the Noble Auxiliary in 2009, Karen has made a significant impact on this volunteer group's ability to raise funds for Noble. Created in 1990 for the purpose of raising both awareness and funds for Noble, the Auxiliary has been an incredible part of Noble's ability to serve our community. For the last 20 years, they have done so through our largest fundraising event, Noble Evening in the Garden. As the preview gala to the Indiana Flower and Patio Show, Noble Evening in the Garden is a delightful night of food, beverages, live entertainment, an extensive silent auction and much more, set against the backdrop of the gorgeous gardens participating in the Flower and Patio Show. This event has grown substantially over the years, thanks to members like Karen. As this past year's president, she oversaw the 20th anniversary event which raised over $100,000 for Noble. In addition to serving as President, Karen has also actively participated in the group's Restaurant Committee each year of her membership, as well as serving as Treasurer, Restaurant Co-Chair and Vice President.
Jackie Johnson, Marissa Manlove Distinguished Service Award. In the nearly eight years that Jackie has been part of the Noble team, she has served our organization in many capacities that go far beyond her current position as Grants Manager. She has led the Noble Dream Team in its efforts to realize the deeply held dreams of the people we serve, working tirelessly with our staff and volunteers to coordinate the necessary resources and logistics. When our funding necessitated that we look at new ways to accomplish our goals with a leaner staff, Jackie enthusiastically took on the role of coordinating hundreds of volunteers for all of our services and events. Perhaps her biggest contribution, however, has been in taking on the role of Self-Advocates helper at both of Noble's chapters. She encourage our Self Advocates to choose the topics of each meeting, helps arrange speakers, facilitates officer elections and through it all, makes certain that our Self Advocates are the ones actually leading the group. By empowering them to take charge and advocate for themselves, Jackie offers an incredible balance of support and has helped the chapters grow through her style of servant leadership. In every aspect of her position at Noble and in the way she has stretched that position to encompass so much more, Jackie has truly been a role model for both new and experienced staff members. She truly embodies our person-first philosophy, living out our mission and core values each day.
Thank You to Our Generous Sponsors

Award Sponsors
Newmark Knight Frank Halakar
Sertoma Club of Broad Ripple
Corporate Partners
American Surety Company
Barnes & Thornburg
BKD
Commercial Food Systems
Greg & Traci Dolan
Gregory & Appel Insurance
Jim & Michelle Jones
Kroger
Maco Press
OneAmerica
Stifel Nicolaus
The National Bank of Indianapolis